This article shows you how to control at when a bot will launch
--
In addition to being able to configure how your bot will launch, it's possible to configure when it will launch.
These controls are also available on the Triggers page under the When section. There are several ways of configuring these controls:
1. Time Delay:
You can set your bot to appear on your site after a time delay. This refers to the amount of time your bot should wait to launch after your page has fully loaded.
2. User Scrolls:
A bot can appear after a user scrolls a certain amount on your page or screen. Set the bot to trigger by the
Number of pixels scrolled
Percentage of page scrolled
3. Online Hours:
You can even control during what times a bot will be active or inactive! Simply toggle off the "Always active" button and choose your dates, times, and timezone. This is helpful for when you have a bot built for offline hours or during a special time of promotion for your products.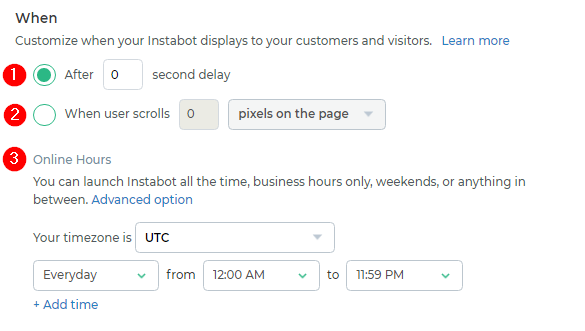 --
Next: Click to see how to customize the Appearance of your bot.