This article shows you how to configure email notifications and real time alerts for engagements on your bots.
--
Use Alerts to receive notification when users interact with your bots, or when they have reached certain goals in the conversation with your bot.
1. Go to the Alerts page
Select the 4. Alerts tab when editing a bot:

The Alerts Tab in the bot building/editing process allows you to configure alert settings for each individual bot. Use the toggle to turn on Email alerts or Real-time; you can receive both email and real-time browser alerts.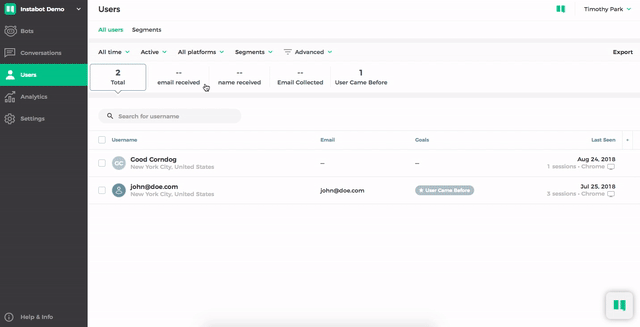 There are two options for receiving alerts:
1. Email alerts will generate and send an email notification :
All engagements with the bot or

Whenever a goal is completed within the bot.
You can route email alerts to specific people on your team, and it's not restricted to Instabot administrators. You can also specify whether you'd like an alert the first time a new user interacts with the bot, or if you'd like a notification every time (if you're using Goal-based notifications we highly recommend changing this setting to "Every Time".


2. Real-time alerts will send a browser notification that can be generated:
Whenever the bot is launched

All engagements with the bot, or

Whenever a goal is completed with the bot
We highly recommend using browser notifications if you're using Instabot Live Chat! If you select Goal completion, you can easily select which individual goals you would like to receive alerts for.
Mobile Apps
We also have iOS and Android applications you can install to get real-time notifications when users are engaging with your bots directly on your phone. This will allow you to monitor and continue with Live chat when needed.



--
Finally: See how to deploy your finished bot onto your site here.